Akon, Sanchez thrill at Sumfest
By Michael A Edwards Observer writer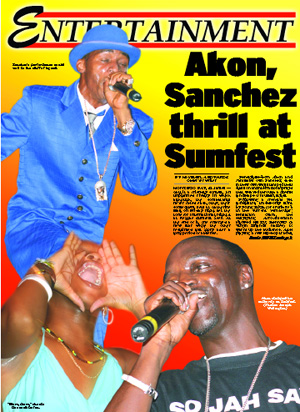 Sanchez's performance could well be the stuff of legend. Akon stamped his authority on Sumfest. 'More, more,' shouts this ecstatic fan. (Photos: Joseph Wellington)
MONTEGO BAY, St James - Call it a friendly contest, an unplanned rivalry in which although the combatants never faced each other, their consequent sets at Catherine Hall on Friday night set the tone for International Night 1 at Reggae Sumfest 2005. At the end of it, one emerged a new star while the other reclaimed lost glory after a long period of absence.
Senegalese-born Akon and Jamaica's own Sanchez, each in their own way, stamped their class on an International Night that weaved through a diverse landscape of musical styles.
Following a frenetic yet lacklustre, tracks-only stint by young R&B (or crunk 'n' b in the current vernacular) sensation Ciara, the easygoing Afro-American allowed his DJ, Benny-D (a Virgin Islands native) to warm up the audience.
After playing a few hip-hop tracks, the wily DJ asked rhetorically: "We in Jamaica, right? So this is gonna be a dancehall party." With that, he unleashed Bounty Killer's Look. It galvanised the audience instantly.
A few tracks later, the audience was deemed properly warmed up and Akon, bedecked in a massive chain and pendant bearing the words "Akon" and "Convict" proceeded to stamp his authority on a Catherine Hall ground heavy with anticipation.
He delivered the current chart-toppers and others from his debut album, Trouble, with the social commentary, Ghetto leading the way.
But Akon saved the two biggest ones - along with a show-stealing surprise - for last.
Having exhorted the audience in various ways throughout the set, he looked down at the reserved section audience and then at the larger gathering, openly questioning the division.
That was as much warning as the security personnel would get as the star jumped off the stage, made his way through the reserved section and then, being hoisted over the fence, he stood up literally on the hands and shoulders of the general section of the audience, the security officers scrambling to keep pace, as others further from the fray worried whether his chain would be pinched.
Akon then declared defiantly, "let the Press write about that!" before delivering Locked Up, the hit that established his career, and Lonely his infectious mid-tempo adaptation of Bobby Vinton's 1950s classic Mr Lonely. Having made his way back to the stage (and into the hearts and minds of many) Sumfest's newest star closed with a final appeal for black unity.
With such a pace set for them, a lesser artiste might have either capitulated or resorted to cheap gimmickry to move the audience. But Sanchez, invisible on the local music radar for some time, proved he was of a different ilk.
Dressed in his trademark bowler hat and suit (both royal blue on this occasion), the reggae crooner turned in a performance that could well be the stuff of legend.
Blessed with a voice that can render virtually any song from any genre, he did just that, scoring at will with his own hit compositions, as well as with the covers that had at one time earned him the moniker 'Mr Do-over'.
By the time he closed, with a stirring rendition of the hymn Amazing Grace, he was every bit at home on the Catherine Hall stage as a millionaire in a luxury suite. He was given an encore, which included Sam Cooke's Bring It On Home To Me but in truth, he really didn't have to oblige; the rapturous Sumfest audience had already gotten more than they bargained for.
The "East Fest Boys" Morgan Heritage, also laid down a tight and engaging set, beginning with Don't Haffi Dread. Coupling intense soulfulness on vocals with crystalline instrumentation, they stamped their class with hits like Down By The River, She's Still Lovin' Me and Reggae Bring Back Love.
But it was their closer, How Come, taken from their latest disc Full Circle, that had the most impact. Amid the shrill cries of "too much killing" - a recurring decimal throughout the preceding three nights - the musical family delivered a classic example of smart yet impassioned social commentary.
The night's last act, Luciano, also delivered a sterling set, one that did not even necessitate the inclusion of one of his sons (another growing stage show trend). But at that time, with the sunrise imminent, a significant portion of the Sumfest audience began to vote with their feet as the act progressed.
Also acquitting themselves well were MoBay's own Mackie Conscious, early stage act Andy Vernon and Red Stripe Big Break winner Prophecy, who showed remarkable poise and assurance throughout his brief stint. Richie Spice also claimed an early victory, eliciting the lighters in response to hits like It No Pretty, Grooving My Girl and his strong social commentary Earth A Run Red.
Earlier, the band Jumanji set a scorching pace to an unfortunately scanty audience, delivering first-class adaptations of Rhythm Of The Night and Johnny B Goode, among others.
International Night one provided the audience with a welcome experience of showmen at their best, regardless of nationality or exposure.